What To Look For In A New Zealand Christian Dating Site
The best sites of this kind are not necessarily the most popular ones, but it is important that they have a strong member base. It is also useful to have good search options at your disposal, so you can find Christian singles who live nearby and match your tastes. While random browsing can be fun, it is nice to be able to find your perfect match in an instant and avoid wasting time that you could be spending chatting up a cute single who seems to be amazing enough to spend the rest of your life with.
That being said, you'll also want enough communication options besides plain messaging. It is nice to also be able to enjoy a live chat or even video chat. That way, you can get to know each other better before you finally meet in person.
Stressing the importance of a well thought out profile seems almost unnecessary, but it is important we make sure you know that a potential match's first impression of you will depend largely on what your profile looks like. It goes without saying that it should be a good one. Having the chance to add many details to your profile and learn a lot about other members from theirs allows you to minimize the chances of spending time chatting with someone who is not too compatible with you.
Last but not least, the design of the site can also play a significant role, as it should make you feel comfortable and relaxed and help you get in the mood for chatting and meeting new people. If the design is not friendly and inviting, it might make you feel less enthusiastic about the experience and make you give up on it altogether.
Our Recommended Websites
If you are still worried that it will take a while before you stumble upon the right site, we are here to make things even easier. In the following part of this text, we will focus on the best New Zealand Christian dating sites around and provide you with enough information to make the right choice. Let's begin.

#1
Best for Meeting Australian Christians
Christian Meet Review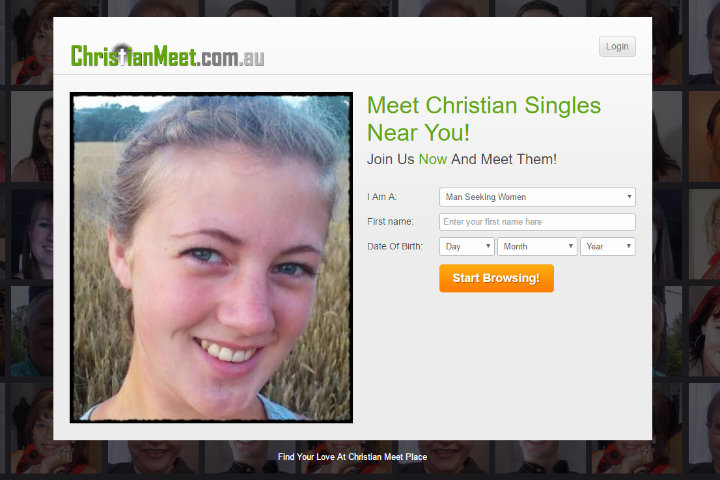 This is a Christian dating site where you are more likely to find local singles from New Zealand than anywhere else on the web. As soon as you join, you will get to see a bunch of great potential matches near you and choose if and how you wish to get in touch with them. You can also see which members are currently active and leave them a message or send a wink and get some fun conversations started.
If you are not only interested in finding love, but also meeting a lot of interesting people who believe in the Lord and share your interests, you can join chat rooms and enjoy meaningful conversations, have tons of laughs and just relax in good company.
Be sure to make full use of the abundant profile building options and create a profile that truly speaks about who you are. Add a lot of personal information and several photos, so you can be sure that you will attract just the right kind of people who are truly compatible with you. With the numerous Christian New Zealanders who gather on this site, you will have many new contact requests in no time and enjoy many exciting one-on-one conversations which may lead to something more.
#2
Best for Finding Nearby Christians to Date
Christian Datebook Review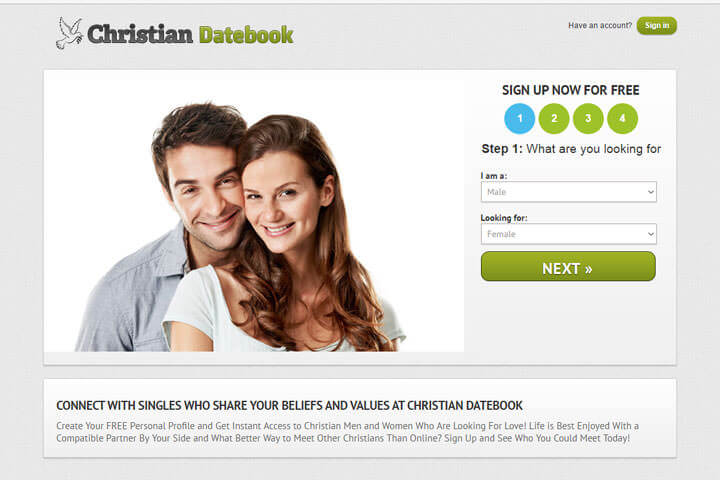 If you know exactly what kind of person you are looking for, Christian Datebook is a perfect choice for you. Since it is a Christian dating site and has many members from New Zealand, you get a great head start and thanks to the advanced search options and highly detailed profiles, you can easily find the one that is just right.
The site is extremely easy to use and everything you need is right there where you can see it, including member profiles and all the important notifications. It also allows you to interact with other members in several ways and you get to send flirts to the ones you are interested in dating.
All members are friendly, single and Christian, which guarantees you will have a blast in the chat rooms, where numerous singles gather and talk about just about anything, share their stories and have some amazing chatting fun. While it is not the most popular dating site around, Christian Datebook is definitely worth your time and offers you the chance to make great friends, have a wonderful time and find love along the way.
#3
Best for Chatting with Christians
Christian Chat City Review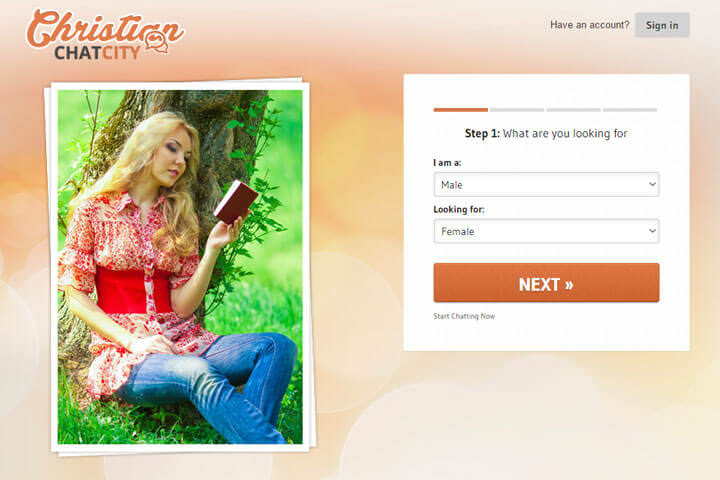 This site is all about chatting, as you will get to see as soon as you join. There are at least a dozen lively chat rooms, with numerous Christian singles from New Zealand and all around the globe chatting at all times of the day. It is interesting that once you get to know several people you really like, you can create a chat room of your own and have more private chats with a select few. One way or another, you are bound to have an amazing time talking to people who do not only share your beliefs and the desire to find true love, but also like the same things as you do, which is one of the major reasons why joining Christian Chat City is a great idea.
Enjoying one-on-one interactions is just as easy, as you can send flirts to the singles you really like and also exchange private messages that may lead to something more than just chatting. Thanks to the diversity of the member base, you are sure to find someone who suits your liking and join the ranks of many lucky people who have found love on this site.
Conclusion
As you can see, online dating truly has a lot to offer to Christian New Zealanders who are looking for love and there is no reason why you shouldn't take advantage of it as you have nothing to lose and so much to gain. Whether you choose one site or another, you will meet many wonderful singles who need someone like you to make their life complete. The three sites we presented previously are certainly the best ones on the web, so don't be afraid to give them a shot. Each one of them can help you enrich your life with exciting acquaintances and new friendships and potentially find someone who will make every day the best day of your life.
Life is short and there is no time to sit around and wait for things to happen. The only sure way to find love is if you search for it and believe in God's infinite mercy. That way, you will have no regrets and you won't find yourself wondering what would have happened if you had had the will and the courage to take a chance and pave your own way to happiness with the Lord's blessing and help. Get started today and get ready for the amazing experiences that are waiting for you. True love is just a click away.